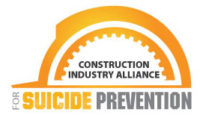 ASSP Members Appointed to Construction Industry Alliance for Suicide Prevention Oct 01, 2018 Members Jerry Shupe and Rick Zellen were recently appointed to represent ASSP on the Construction Industry Alliance for Suicide Prevention by the Construction Practice Specialty. The alliance's goal is to provide and disseminate information and resources for suicide prevention and mental health promotion in construction.
Shupe, a professional member of ASSP's Colorado Chapter and a member of the Society's Construction Practice Specialty, explains that suicide is prevalent in the construction industry. "The construction industry has one of the highest rates of suicide among all professions," he says. "As safety professionals, we have an opportunity to further our mission of helping people by learning about risk factors, identifying warning signs and providing avenues to get people resources that are available to them if there is concern of suicide. A great national resource that all safety professionals should be familiar with is the National Suicide Prevention Lifeline."
Rick Zellen, a professional member and past president of the Colorado Chapter, 2017 Region II Safety Professional of the Year and a member of the Utilities, Management, Construction and Risk Management Insurance practice specialties, also spoke about the importance of the alliance in the construction industry.
"I accepted [this position] because I wanted to be a part of the movement that is helping to break the stigma surrounding mental health and building a culture that moves people who are facing pain, that would drive them to consider suicide as a solution, to be aware of the assistance that's available," he says. "I lost a close friend to suicide about 10 years ago. I had absolutely no idea that he was in that much pain. I'd like to think someday, because of the work the alliance is doing, we will see a significant reduction in suicides in the construction industry."
Shupe and Zellen's roles in the alliance will be to provide educational materials, such as articles and resources to help, to the Society's Construction Practice Specialty to raise awareness.
New employees bring their unique personalities, perspectives, and history to your job site. What is their safety mindset? What was the safety culture of their previous employer? These are worth considering during the onboarding process of new employees. You are reading this publication because you have a passion for safety. You promote a safe work environment for your employees. You have a clear vision for your job site's safety culture. You want new employees to share your vision, embrace your vision, and live by it. How do you influence them?
Follow the link for the full article: https://ohsonline.com/Articles/2017/09/13/Social-Influences.aspx?Page=1
OSHA announced that new frequently asked questions and training videos on the standard for respirable crystalline silica in construction are now available on the agency's website.
OSHA along with industry and labor organizations collaborated to develop FAQs to provide employers and workers with guidance on the standards requirements. A series of six videos instruct the users on methods for controlling silica dust when performing common construction tasks or operating construction equipment such as handheld power saws, jackhammers, drills, and grinders.
https://www.osha.gov/dsg/topics/silicacrystalline/construction.html#VideosTable1Tasks