Goal: To provide opportunities for our ASSP RMC members to feel a sense of togetherness through giving back by volunteering, fundraising, or through other acts of kindness.
---
Poudre Wilderness Volunteer Event:
On Saturday, September 11th, 2021, a group of ASSP RMC (American Society of Safety Professionals Rocky Mountain Chapter) members teamed up with the PWV (Poudre Wilderness Volunteers) to rebuild a section of the North Fork Trail, which was in the Cameron Peak burn scar.
The day started with a safety talk led by Mike Corbin, where he explained how to use and carry tools, as well as the importance of communicating with one another while work is in full swing.
Equipped with pickaxes, hard hats, other PPE (personal protective equipment), and pure enthusiasm, the group of volunteers set their sights on a 1/2-mile-long hike through the serene forest. ​
Once at the worksite, Mike and his co-leaders described the scope of work, and task-based teams were formed. One group began removing the existing wooden planks and digging out trenches for water flow. Another group collected dirt and leveled off sections of the trail, while the third group collected rocks of all sizes to lay down as barriers and ramps.  Collectively, a handful of people also moved a large burnt log into a pre-dug trench to form a stable path.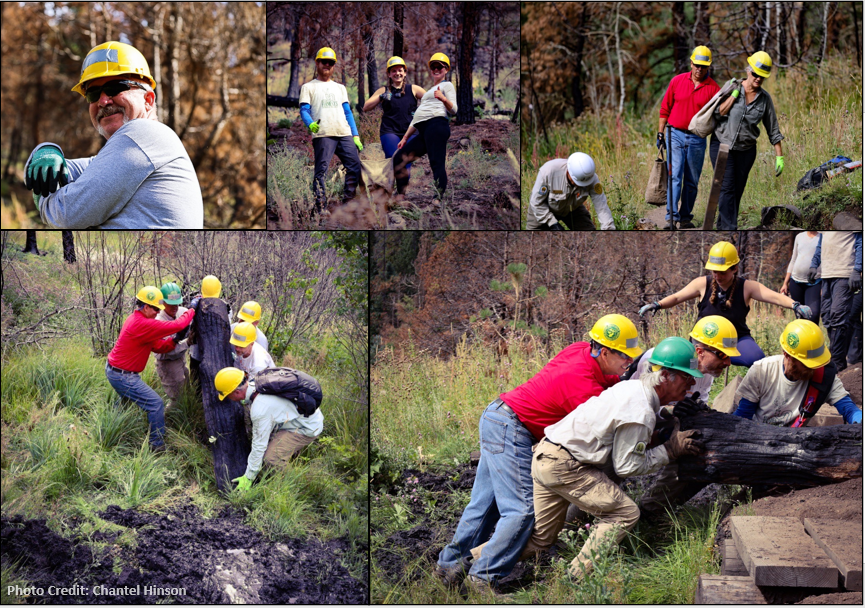 Due to excellent teamwork by everyone, in addition to the leadership of the Poudre Wilderness Volunteers, the group completed their tasks ahead of schedule and all were ecstatic to see the finished product.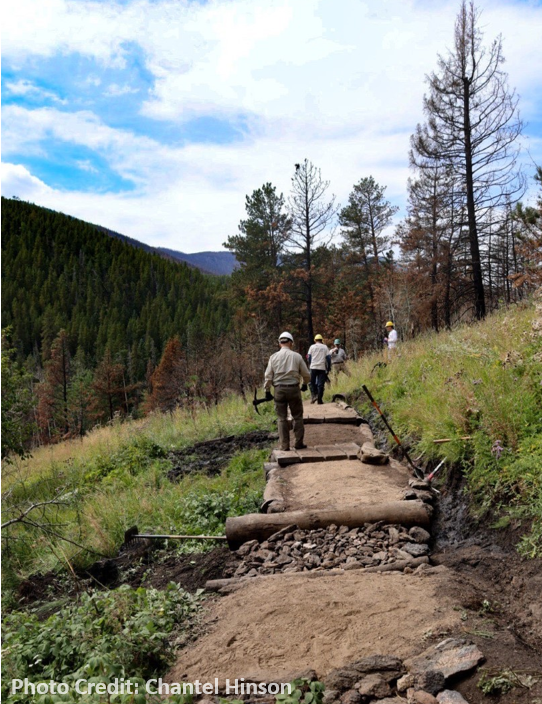 The day was filled with hard work, sweat, and determination to give back to the community by rebuilding something so fragile and important. Stories and laughs were shared by all, and we thank everyone for supporting our first community event.
We look forward to seeing YOU at our next volunteer event!
Now, for some feedback from our volunteers:
"I really enjoyed our outreach yesterday. I felt a sense of accomplishment in giving back to our community as well as being proud of our chapter for thinking of how we can help our community not just ourselves." – Clyde Serna, ASSP RMC Foundation Chair and Nominations and Elections Committee
"I did not know what to expect but came out of this event with a new appreciation for our trail system and the perseverance of dedicated volunteer organizations such as the PWV. This was a terrific way to give back, connect with my ASSP counterparts and do something positive." – Ivanna Khmelovska, ASSP RMC Secretary and Community Committee
"I really enjoyed the project, and I'm proud of what we were able to accomplish in such a short period of time. It was a great team-building event!" – Pat Hagge, ASSP RMC Nominations and Elections Chair, and Historian